Modula Lift: Our 37 years market proven bestselling product.
Modula Lift is the ideal home for products, components and spare parts in all environments and sectors. Available in wide range of sizes and storage capacities, thousands of combinations, and configurations beyond your imagination.
Max throughput of up to 120 trays per hour and single tray payload could reach 990 kg, it equals to a 2-5 people efficient team.
Modula Lift can help you to recover to 90% ground space in your warehouse, while increase working efficiency 2 – 3 times, improve picking accuracy to 100%.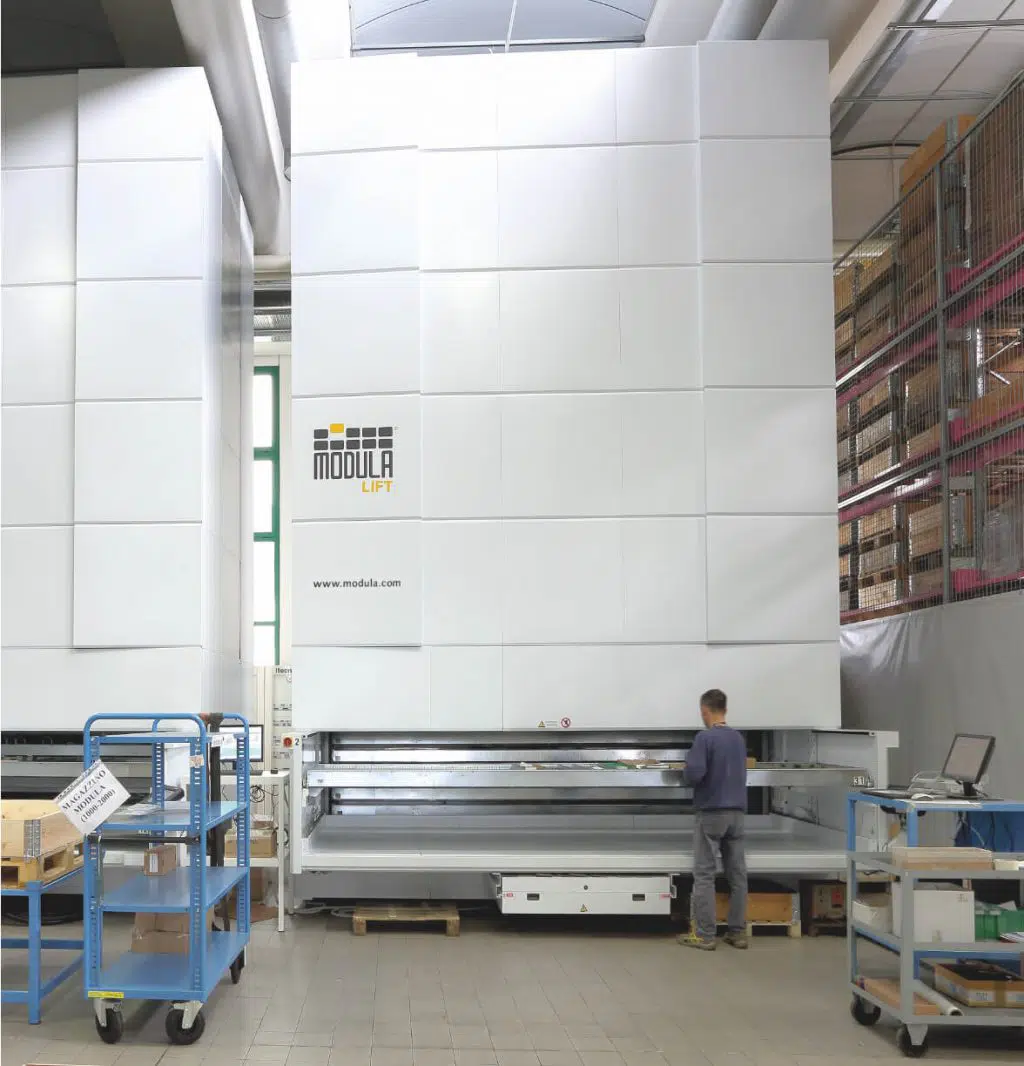 Boost your storage capacity with Modula vertical warehouse solution. One Lift equivalents to over 300 square meters manual shelves.
Recover space: By taking advantage of vertical space, you can recover up to 90% floor space
Different payload options across every tray width:  Modula trays are designed to handle heavy loads without strain. Various payload options to meet your requirements without wasting your investment.

Internal or external bay: Internal bay is the best solution if you have very limited space.

 

While external bay allows faster picking, could integrate with picking aids such as cranes or mechanical manipulators to handle heavy loads.


Single or dual delivery: Single delivery is suitable for less demanding throughput application. Dual delivery reduces waiting time, while one tray is picking, the second tray in the row will be in position waiting, boosting productivity especially when working in conjunction with external bay.
Improve picking efficiency to 2-3 times.
Increase efficiency and accuracy: With wide range of visual picking aids options, operators can quickly find the items to be picked or replenish, very easy and convenient.


Boost inventory management: all picking/refilling operations are fully traceable, allows monitor inventory in real time.
Increase security of your product and dust free: Items are stored in a fully enclosed machine which prevents unauthorized visit or dust.

 

Could limit each employee's access to specific trays.

 
Could integrate with other software to improve managing:  Modula Warehouse Management System (WMS) could integrate with your company's host system, such as ERP, SAP, Oracle, Microsoft, MRP, etc.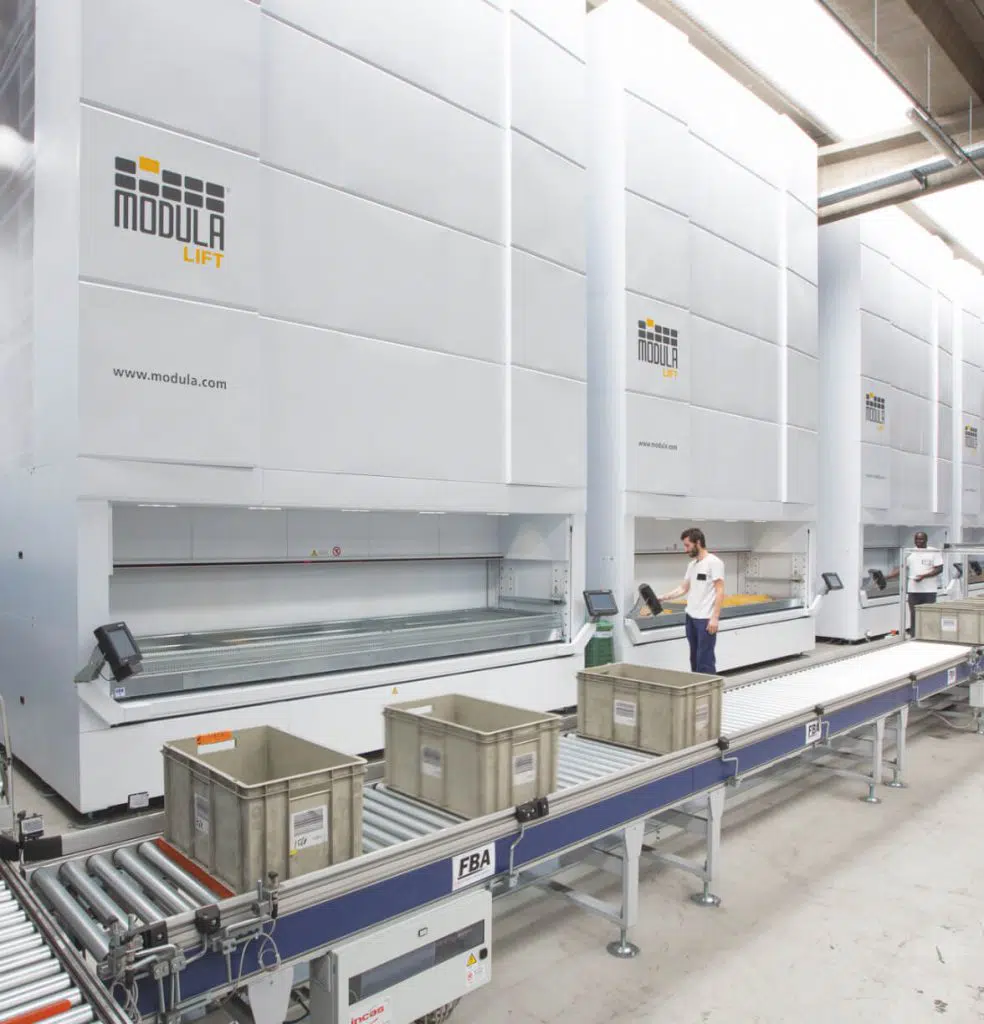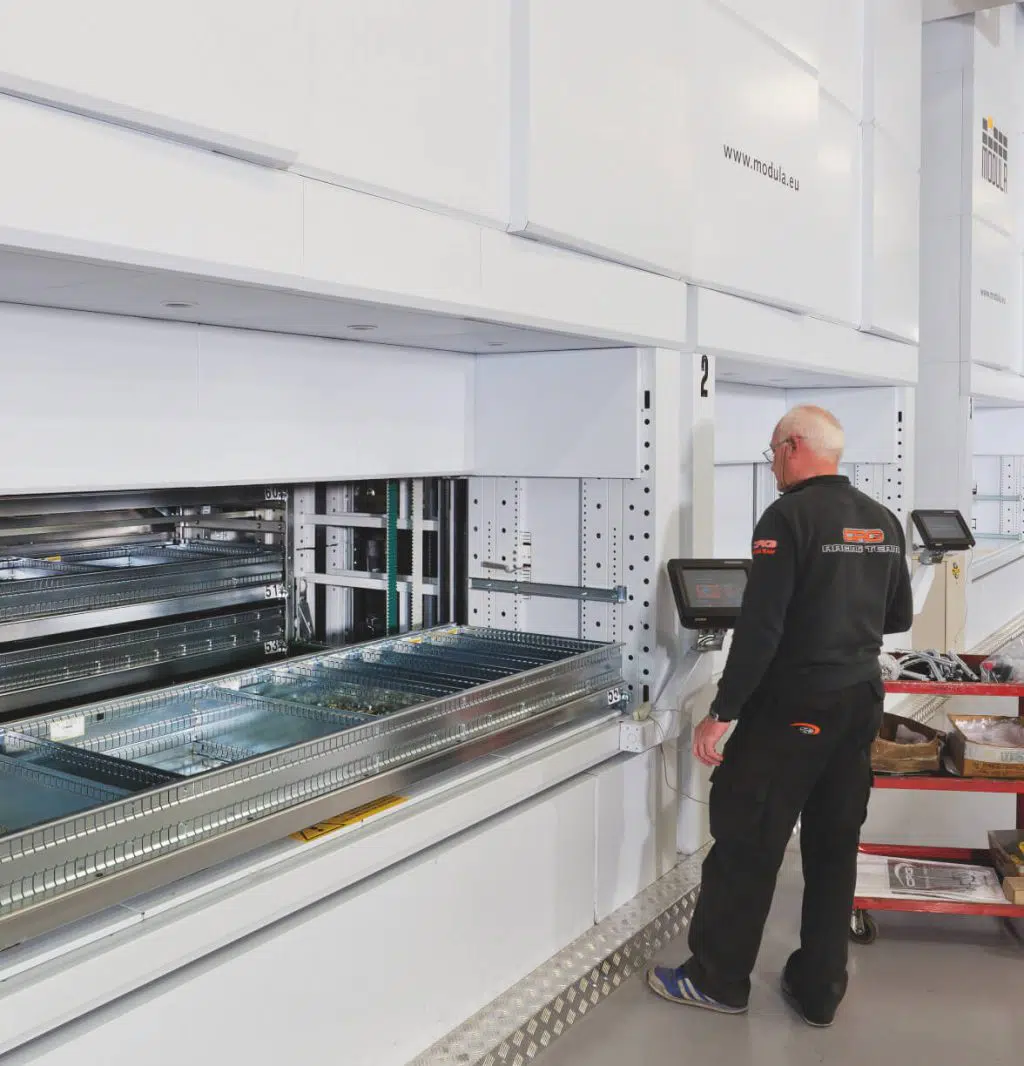 Ergonomic and safe working environment
Reduce the risk of injuries: By eliminating the stress and strain of reaching high and low, or climb stairs, Modula helps employees to work under ergonomic environment.


Improve efficiency and save time: Workers no longer need to walk in huge warehouse to search for stuff – they only need to walk to a few VLM stations, pick or refill from the bay

at

ergonomic height.

Users friendly Copilot console: The color touch screen allows operators to check all items stored inside and organize tasks.
A wide range of options can add to Modula Lift according to your operation needs at any time. Your Modula sales can help you to choose the best combination.
Boost your Lift with end-to-end inventory and warehouse management
Modula provides a range of advanced warehouse management and remote support and analytics systems with automated materials handling and complete inventory management, seamlessly integrated with our customer's choice of ERP or DMS.
Modula WMS Base
Ideal for small or growing warehouse footprints,
free for life with any Modula unit purchase.
Modula WMS Premium
An advanced, end-to-end inventory and warehouse management solution for larger operations.